Volunteer
Volunteering in Greenwood couldn't be easier and there is a whole range of activities to take part in all year round. Whatever your interest, or time available, there are lots of practical ways you can get involved. Contact the team to give it a go.
Practical conservation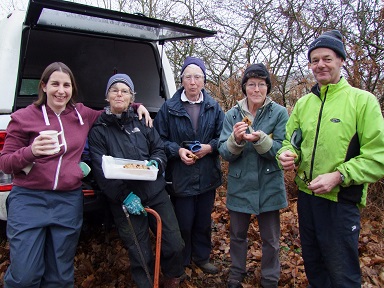 Becoming a practical conservation volunteer is fun! Get out into the fresh air and take part in one of the weekly practical tasks. Tasks can range from woodland conservation and hedge laying in winter to grassland and heathland management in summer - but be prepared for anything!
It might just be the new adventure you are looking for - it's free, keeps you fit into the bargain and it's a great way to meet new people and make new friends.
There are lots of groups right on your doorstep who are keen to welcome you and there's also free training available and a host of other benefits. So go on - have a go - you might just enjoy it! Contact us for current environmental volunteering opportunities.
Join a Friends Group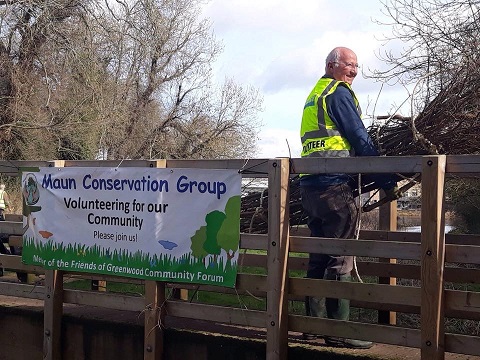 Have you ever thought about joining a Friends group in your area. Friends groups are made up of local people who are enthusiastic about their local green space or park. These individuals have organised themselves into a formal group to give them a say about their local area. Some groups hold walks and events and conduct surveys as well as litter picking and taking part in practical tasks. Others might volunteer in the visitor centre, organise publicity, fundraise or simply keep a watchful eye on the park.
If there isn't a Friends group near you – why not start one. Download our Greenwood Community Woodland Handbook which has some useful information even though some of the contact details may be out of date or you can get in touch with the team to find out more.
Friends of Greenwood Community Forum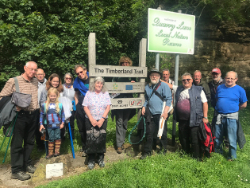 The Greenwood Community Forest Team support Friends groups in many ways. We have experience of setting up Friends groups and can help keep that initial enthusiasm going. Once constituted, we urge newly constituted groups to join the Friends of Greenwood Community Forum to meet members of more established groups. The Forum is a network of Friends groups in the Greenwood area who meet up to four times a year, to:
Gather and disseminate information by sharing experience and best practice
Provide a Forum for discussion, acting as a sounding board
Provide a valuable pool of skills, knowledge and experience, both to support individual Friends groups and also for input into the Community Forest programme
Help support the development of new and existing groups through mentoring and advice. The Forum meets at a different Friends group's site each time, and the host group leads a walk after lunch. This is usually a great way to share knowledge and discuss similar experiences encountered in the development and management of sites.
Find the Friends of Greenwood on facebook or click on their leaflet or see our map of Friends groups in your area.
Seeking a secretary
Could you be the secretary for the Friends of Greenwood Community Forum? If so, they would love to hear from you. Whilst this post is unpaid, expenses can be claimed. The Forum requires someone who is reasonably organised, moderately computer literate and who has regular access to a computer to support the committee by organising and taking notes of meetings, distributing letters/emails, and being responsible for keeping up-to-date contact lists and records. For an initial discussion please contact greenwoodforum@outlook.com. View the role description here
Greenwood Community Awards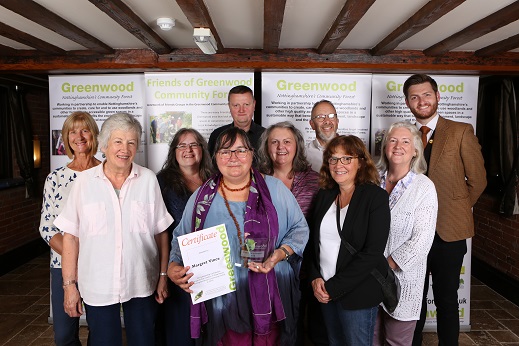 Each year the Greenwood Partnership says thank you to volunteers by organising a celebration event. This usually includes a barbecue followed by a presentation of achievements over the last 12 months.
Individuals recognised by their peers as making an outstanding contribution towards creating, or encouraging people to use the Greenwood Community Forest are presented with an award. Swancar Farm, Trowell, was the venue for the Greenwood Awards 2019. We hope to be able to recommence the annual celebration of Friends groups and volunteers in 2023.