Greenwood is Nottinghamshire's Community Forest
The Greenwood Community Forest Champions are:
Nottinghamshire County Council
Councillor Phil Rostance (Chair). Contact: 0115 8043174
Ashfield District Council Councillor Rachel Madden. Contact:

07747 026290

Broxtowe Borough Council Councillor Joan Briggs. Contact: 0115 9226686
Gedling Borough Council Councillor Jenny Hollingsworth. Contact: 0115 9617274
Mansfield District Council Councillor Andrew Tristram. Contact: 01623 700060
Greenwood Community Forest Initiative enables Nottinghamshire's communities to create, improve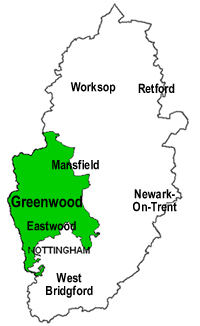 and enjoy woodlands and other high quality accessible green spaces in a sustainable way that benefits the environment, landscape and the local economy.
The core Greenwood Community Forest area covers 161 square miles of west Nottinghamshire, from Mansfield in the north to Nottingham in the south and from Eastwood in the west to Farnsfield in the east. It overlaps historic Sherwood Forest in the north-east and curves round to Attenborough in the south-west. Over 1 million people live within 5 miles of Greenwood Community Forest.
Achievements
From the very first tree planted in 1991, the Greenwood Community Forest has continued to develop thanks to our partners' vision, the communities that live in and around it and volunteers that work hard to help develop green spaces that all link up to create a place for us to grow.
Our Strategy
The Greenwood Initiative's "mission statement" below describes our fundamental aspirations. Our shared values and the ways in which we will work are indicated by an agreed set of principles.
Finally, we have 10 strategic aims, which summarise the things that we need to do to achieve our vision.
Our mission
To work in partnership to enable Nottinghamshire's communities to create, care for and to use woodlands and other high quality accessible green spaces in a sustainable way that benefits the environment, landscape and the local economy.
National context
The Greenwood Community Forest is one of twelve Community Forests which were established in the early 1990s to demonstrate the contribution of environmental improvement to economic and social regeneration. Together, the twelve Community Forests were able to help to improve the health, well being and quality of life of over half of England's population.
Each Community Forest was established around broad partnerships to pioneer activity and deliver lasting change. Initially, core funding was provided in part by central government via the Countryside Commission, Countryside Agency and Forestry Commission. Such funding finished in 2007 and each Community Forest has become more independent of national funding bodies.
The long-term vision of Community Forests however, remains as relevant as ever. For example, the national vision for England's tree and woodlands over the next 50 years is set out in Defra's Strategy for England's Trees, Woods and Forests. This identifies continuing activity and innovation of the Community Forests as one of the opportunities for action.
A national partnership, England's Community Forests exists to share best practice between the individual Forests and to demonstrate how they contribute towards national agendas across Government.
England's Community Forests
Some information about England's Community Forests:
Since 1990, England's Community Forests have

Planted over 10,000 hectares of new woodland
Brought more than 27,000 hectares of exiting woodland under management
Created or improved 12,000 hectares of other habitats
Planted or restored 1,200 kilometres of hedgerows
Opened up 16,000 hectares of woods and green-space for recreation and leisure
Restored or created more than 4,000 kilometres of footpaths and cycle routes
Engaged and involved hundreds of thousands of people in finding out about and improving their local areas
Secured investment of over £175 million to improve people's quality of life