Partnership Projects
Most Greenwood activities are delivered by a number of organisations working in partnership. Different partners are able to bring different skills and expertise to a project, for example technical, financial, wildlife conservation or economic development. Most if not all projects involve local communities in one way or another and may also bring together a mix of private and public sector interests.
The Greenwood team typically takes the role of helping to draw together an appropriate mix of partners, then facilitating effective partnership work through the co-ordination of effort.
Trees for Climate

Trees for Climate is a major tree planting programme funded through the Government's Nature for Climate Fund. In a push to help deliver against the Government's tree planting targets, Greenwood will join the other 11 Community Forests across England in planting over 6000 cumulative hectares of "climate combatting" woodland in the next four years making Trees for Climate one of the biggest environmental regeneration initiatives the UK has seen.
When mature, the trees will eventually store over 1,200,000 tonnes of carbon dioxide, the equivalent of over 45,000 trans-Atlantic flights and contributing to meeting the government's net zero by 2050 target. Funded by Defra, the project will also reduce flood risk, increase sustainable UK grown timber, provide more places for nature and biodiversity to thrive, and increase local access to woodland. The funding will also create new jobs and secure existing ones within the forestry and environmental sector, helping to boost local economies as part of a green recovery.
Our plans this year include planting over 30ha at Bestwood County Park
Miner to Major Landscape Partnership Scheme
The Greenwood Team played a major role in supporting the Sherwood Forest Landscape Partnership with it's £3.7m bid to the Heritage Lottery Fund (HLF). The project aims to celebrate the area's mining heritage, protect and restore habitats and species and connect local communities to the forest. Local communities will be given the skills and knowledge to look after the landscape and will be involved in mapping Sherwood over the past 100 years.
The process
Preparation of the Miner to Major bid has been led by a partnership board made up of the following organisations:
Nottinghamshire County Council (chair)
Forestry Commission
Friends of Moor Pond Woods
Groundwork Creswell Ashfield & Mansfield
Greenwood Community Forest
Natural England
Newark & Sherwood District Council
Nottinghamshire Wildlife Trust
Rural Community Action Nottinghamshire
RSPB
Sherwood Forest Trust
The Greenwood Team played a leading role in the bid for funds from Heritage Lottery Fund, which was successful in providing £120k development funding in 2013. The Greenwood team worked with Sherwood Forest Trust to hold consultation events so that a number of other organisations and community groups could help to shape the bid. A development manager was recruited, and in 2017, a second bid was successful in securing £2.4m from HLF. The 5 year project runs from 2019-2023. The different strands of the project are:
Celebrate Sherwood: Celebrating Sherwood's heritage and inspiring a new generation.

Skilful Sherwood: Treasuring skills from the past and caring for the future of Sherwood Forest.

Connecting Sherwood: Connecting people, nature and heritage of Sherwood Forest.

Understanding Sherwood: Finding out about the forest, heath, people and places.

Community Grants Scheme: Funding for local community projects that complement the delivery of the Landscape Partnership scheme.

Sherwood Retold: Raising awareness, accessibility and understanding of the Sherwood Forest landscape through a range of interpretation methods relevant to different audiences.
Making a difference on the ground
Sherwood's Trees & Hedges
The Greenwood Team is co-ordinating and delivering the Trees and Hedges project – part of Connecting Sherwood
Working with landowners and land managers we will identify areas which would benefit from a tree and hedgerow survey. Trained volunteers will undertake surveys which will record information such as species, age, condition, numbers and location of hedgerow and landscape trees and will identify options and opportunities for new tree or hedge planting. We are actively seeking volunteers to help with this project. If you are interested please get in touch.
As part of the Trees and Hedges project, we would like you to come up with ideas about how we can help develop an event that celebrates a local myth, legend or story. Find out more here
Further details of the Miner to Major Landscape Partnership Scheme are here
Access Audits
Green spaces are important to everyone but sometimes there are barriers which can prevent some visitors from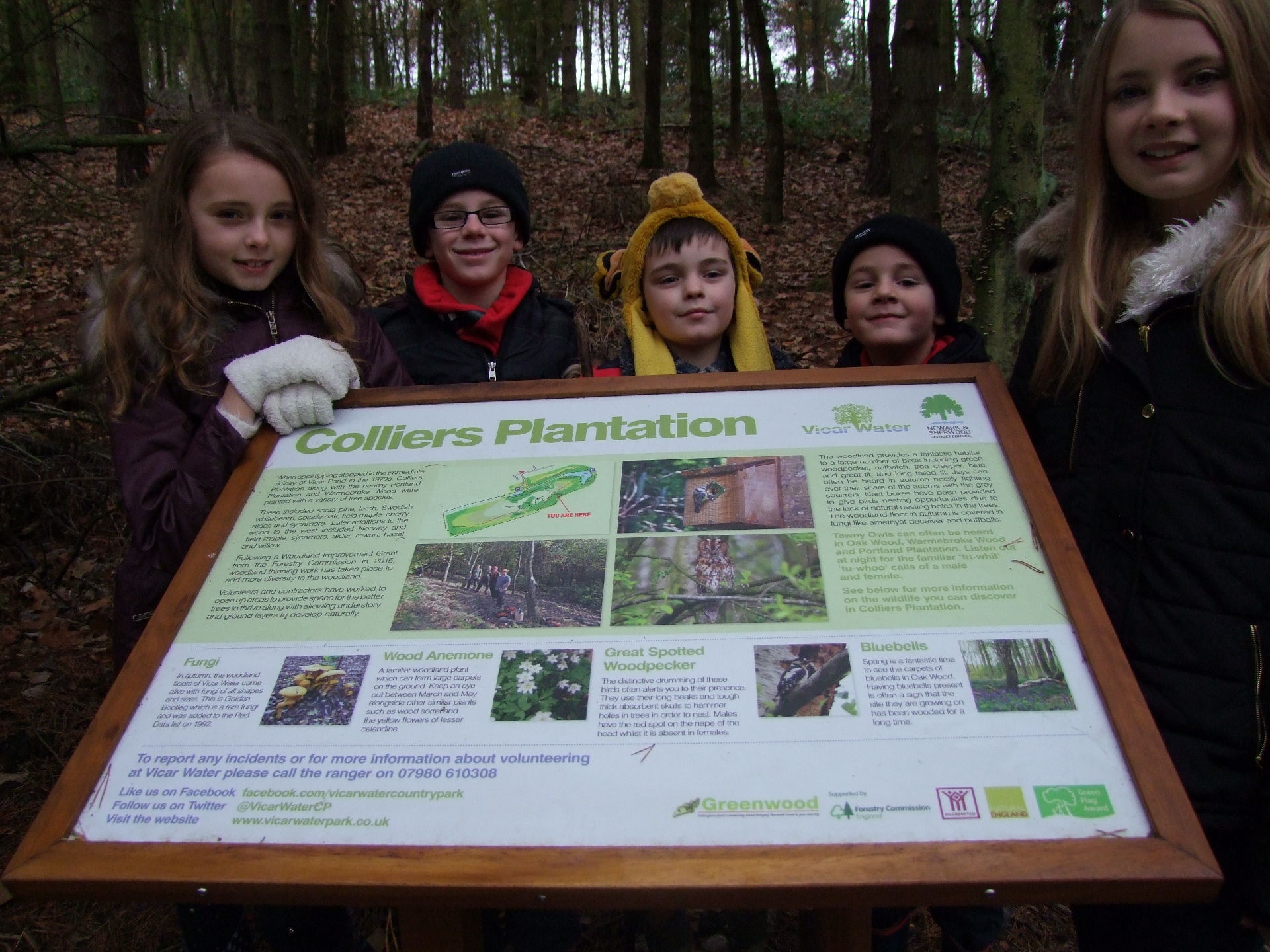 accessing and enjoying a site. Problems range from a lack of detailed pre-visit information to physical barriers such as gates, uneven path surfaces or poorly designed or located information panels.
Greenwood promotes the principle of 'Access for All' and works with partners to improve accessibility on their sites, routes and facilities. We have done this by offering access audits - a step by step, consistent way, to evaluate the physical accessibility of green spaces and availability of the right information in the right places. Once completed we present this information, which identifies any potential improvements, to the landowner.
Greenwood has undertaken over twenty access audits for partner organisations leading to successful bids for funding to carry out practical improvements in many cases. Applications for Green Flags also benefit, as well as improved confidence for visitors accessing their local green space.
Examples include:
Onchan Park, Carlton, Nottingham.
The access audit supported a bid for funding to undertake a range of improvements to the site including accessibility improvements.
Gedling Borough Council 2019
Brierley Forest Park, Sutton-in-Ashfield. The audit was used to inform the management plan update and to support a Green Flag submission. Ashfield District Council 2013
Arnot Hill Park, Arnold. The access audit results and recommendations were used to support a £10k grant bid, which led to practical works to improve signage and interpretation. Gedling Borough Council 2013
Bramcote Hills Park, Bramcote The access audit provided the impetus for £33k investment including path surfacing and widening, removal of barriers, new interpretation and installation of seating. Large trees were planted by local schoolchildren to further enhance the parkland setting. Broxtowe Borough Council 2011
Supporting Friends groups
Friends groups are local people that come together as a recognised group to help the landowner to look after a
green space. Members of a Friends group come from all walks of life and each has their own skills, experience and knowledge. Accessing the site regularly, they are able to communicate with the wider community and the landowner. They can easily spot any anti-social behaviour and report it swiftly, and are adept at noting any wildlife visiting the site. Friends groups can provide activities such as health walks, host school visits and fundraise. The Greenwood Team supports Friends groups in many ways from helping new groups to form and become established to providing training and helping to recruit new members.
Friends of Greenwood Community Forum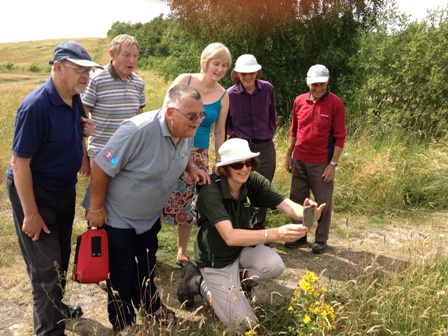 Once set up and constituted, we encourage groups to join the Friends of Greenwood Community Forum which is an excellent way to network with other Friends groups within Greenwood and the surrounding area.
Supported by the Greenwood Team, the Forum provides a place to share knowledge, access free training and promotional tools as well as receiving support from established groups.
The Friends of Greenwood Community Forum's Future is Green project, supported by the Greenwood Team, offers training for volunteers to better equip them to help develop green spaces and encourage visitors.
Since 2019, Friends Groups have gained certificates in first aid, taken part in risk assessment training, brush cutter training and Invertebrate identification and surveying training.
In order to build their confidence to invite schools to their sites, volunteers shadowed education professionals whilst they led school visits on four green spaces. A further four visits were planned for this summer, and we hope to reschedule those once restrictions are lifted. Training next year will include retaining and recruiting volunteers, bat surveying techniques and crayfish identification.
Find the Friends of Greenwood on facebook or see our map of Friends groups in your area
Trees for Learning
Trees for Learning is free to primary schools in the Greenwood Community Forest area - which includes the districts of Mansfield, Ashfield and Newark and Sherwood and the boroughs of Gedling and Broxtowe.
We want to help children to reconnect with nature by helping primary schools to plant trees in their school grounds or other public spaces.
We also want to help teachers to use trees for curriculum-based activities. We can offer the following:
Free site visit
Free advice
Free trees
Free practical support
Free education activity
Here are some of the comments we have received from schools who have been involved in the "Trees for Learning" project:
"Inspirational session, the children were engaged, excited and could recall information. The session linked to the NC and it was well lead and delivered. Ideas are going to be used in the teaching of our forest schools. A great session and we need more like this in schools, would recommend and be more than happy to participate in further events. Thank you"
"The children thoroughly enjoyed themselves. There was a great mix of activities that were delivered at a pace to keep the children engaged but also have enough time. I really liked some of the session's ideas to take forwards in to forest school sessions I lead."
"Every session was fabulous. Staff and pupils could not choose a favourite and were all fully engaged. The team's enthusiasm was contagious and they passed on their knowledge to us in an engaging way. We loved it!
Click here to find out more
How can all this be free?
'Trees for Learning' is funded by Defra in partnership with England's Community Forests. It is part of a national initiative for schoolchildren to plant one million trees by 2020.
What next?
To arrange a site visit or to find out more, please contact Nic Wort, Greenwood Project Officer at nic.wort@nottscc.gov.uk or tel: 0115 993 2601