Planting a Community Forest
Why trees?
Trees are important to our culture and heritage, they have inspired artists and poets, storytellers and musicians, are part of our everyday life and make our landscapes more attractive. Trees trap pollutants and reduce noise and their roots improve the soil and help to stop erosion and flooding. They absorb carbon and provide the very air we breathe and keep us healthy by promoting mental health when we walk amongst them. Trees shade the sun to keep us cool and provide medicines when we are ill. This year we aim to plant 58 hectares of new woodland in our DEFRA-funded Trees 4 Climate project.
Black Coal to Green Jewels
Trees for Climate
Greenwood will join the other 11 Community Forests across England in planting over 6000 cumulative hectares of "climate combatting" woodland in the next four years making Trees for Climate one of the biggest environmental regeneration initiatives the UK has seen.
When mature, the trees will eventually store over 1,200,000 tonnes of carbon dioxide, the equivalent of over 45,000 trans-Atlantic flights and contributing to meeting the government's net zero by 2050 target. Funded by Defra, the project will also reduce flood risk, increase sustainable UK grown timber, provide more places for nature and biodiversity to thrive, and increase local access to woodland. The funding will also create new jobs and secure existing ones within the forestry and environmental sector, helping to boost local economies as part of a green recovery. During the first year of the project in 2020/21 we planted 4.9 hectares of new woodland at Bentinck South Pit Tip
During year 2, we intend to create nearly 60 hectares of new woodlands in the following locations:
Rufford No 3 pit tip near Rainworth
Land on Daneshill Road, Nr Retford
Are you a landowner with land suitable for tree planting? Get in touch to find out more and be involved in growing the forest
Want to plant on your own patch?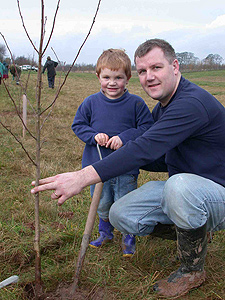 Would you like to plant a tree for someone special, or are you a school or group, or do you want to join friends and neighbours to plant. The Greenwood team can help by letting you know where tree-planting events are being held, offer advice and point you in the direction of grants and suppliers. Get in touch here
Planting trees in your neighbourhood has many benefits and can bring the community together to help. Please see our "How to plant a tree" leaflet.
Whether you want to plant a tree for someone special, are a school or group or want to join friends and neighbours to plant just join in – it's easy to do and the Greenwood team can help by letting you know where tree-planting events are being held.
Grants to plant
Watch this space for news about tree-planting grants and free tree packs available for schools and groups
How to plant a tree
Planting trees in your neighbourhood has many benefits and can bring the community together to help. Please see our "How to plant a tree" leaflet.
Greening our schools
Trees for Learning is free to primary schools in the Greenwood Community Forest area - which includes the districts of Mansfield, Ashfield and Newark and Sherwood and the boroughs of Gedling and Broxtowe.
We want to help children to reconnect with nature by helping primary schools to plant trees in their school grounds or other public spaces. We also want to help teachers to use trees for curriculum-based activities. We can offer the following:
Free site visit
Free advice
Free trees
Free practical support
Free education activity
Here are some of the comments we have received from schools who have been involved in the "Trees for Learning" project:
"Inspirational session, the children were engaged, excited and could recall information. The session linked to the NC and it was well lead and delivered. Ideas are going to be used in the teaching of our forest schools. A great session and we need more like this in schools, would recommend and be more than happy to participate in further events. Thank you"
"The children thoroughly enjoyed themselves. There was a great mix of activities that were delivered at a pace to keep the children engaged but also have enough time. I really liked some of the session's ideas to take forwards in to forest school sessions I lead."
"Every session was fabulous. Staff and pupils could not choose a favourite and were all fully engaged. The team's enthusiasm was contagious and they passed on their knowledge to us in an engaging way. We loved it!
To arrange a site visit or to find out more, please contact Nic Wort, Greenwood Project Officer at
nic.wort@nottscc.gov.uk
or tel: 0115 993 2601
Plant a tree for a loved one
Brierley Forest Park
Plant a tree to celebrate a special event or as a memorial for a loved one or just to help your forest grow. The Greenwood Family Tree Scheme is based at Brierley Forest Park. A tree is planted for you in the memorial copse and is recorded in a special book kept at the park.
Colliers Wood, Moorgreen
The Friends of Colliers Wood manage the waterloo copse at Colliers Wood, a community woodland at Moorgreen in Broxtowe. Trees can be planted in the copse for a nominal fee, which pays for a sapling to be planted and a dedication to be made in the memorial book held at Eastwood Library.